Now on Etsy!
Everything here is made to order, but in-stock items are ready for immediate shipping at my Etsy store!
Master Index
Leather Lore
Contents
"Loads of goods for
Men and Women!"
- Armor (men & women),
Belts, Pouches, Mugs,
Games, Jerkins, Bottells,
Cinchers; lots More!
- Belts, Baldrics, Bags,
Gun stuff, much More!
More index below...
How to Order
How to Order
...Continued
Care of Leather
Cleaning Leather
More index below...
Need to contact me or join my mailing list?
...Continued
More index below...
How to Order
How to Order
...Continued
More index below...
...Continued
Leather Care
More index below...
How to Order
How to Order
...Continued
More index below...
...Continued
How to Order
How to Order
The Bracers of Gondor
Part of my Hand Stitched two layer family of Bracers!
More variations below!
The Bracers of Gondor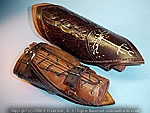 From the Lord of the Rings! Boromir's Bracers that Aragorn wears after his death. Fully researched from actual museum displays and meticulously hand tooled from my own pattern, hand stitched dual layering (everybody else machine stitches these), all artwork painstakingly reproduced. Includes quilted leather padding of your choice (see below), and buckles!
I am the second person on the entire web that started making these and have been doing so now for years! And still these are less expensive and better quality than others that are now making them!
Only $295 per pair
Variable Color Schemes
My studies have shown that the truest colors are Dark Brown over Chocolate Brown, with medium brown padding, as shown above. You can choose that, or any color combination that works for you! Here are some examples of customer orders:
Chocolate Brown over Black; Medium Brown padding
Dark Brown over Black; Black padding
Light Brown over Choc. Brown; Medium Brown padding
Black over Light Brown; Medium Brown padding
All Black, no paint
Tree area left blank
Want a different color scheme? I'll make them however you want! The above examples were customer specified colors. Other colors and custom orders are available!
(see custom work right below)
Bracer Variants / Custom orders

A summary of some of the variants that I've made and can make. Includes quilted leather padding of your choice (see below), and buckles

Usually only $295 per pair (price subject to approval of art)

More designs coming! Got a design of your own? Contact Me!

The Sun Bracers, a custom order from a customer. Based on the Bracers of Gondor, these have a gold sun in place of the tree.

My family crest.

An example of a Raven Crest. This is my Raven for the order I belong to. (This actual emblem is not available to the public.)

This was a single one ordered, with an engraving of a hammer, and some lettering. Note that the point also cut off.

These were Black Gondors with the tree replaced by three golden clovers.

Custom version of the Bracers of Gondor, with customer requested Sindarin Runes which spell out "Anduril"

Thor's Hammer and some runes for art

Chalis with Purple Flames

Plain stitched Bracers with padding, no art at all

$249

More designs to Come!
Made to fit with the Bracers of Gondor, can also be used with other armbands, or worn by themselves! Quilted, Made from real leather, Soft and comfortable. Click here or any photo for all the details and pricing!

Medium brown which is the actual color for proper Bracers of Gondor. The tones of your pair may vary slightly my as supplies change.

Chocolate Brown. Darker than Medium brown. Limited availability due to supply issues.

Black.
All of the art on these are fully hand drawn, cut, tooled, and painted resulting in a laborious yet rewarding result!
Testimonials
Mail order customer Padraig wrote: I have just received the Bracers of Gondor today and what can I say, they are amazing! The work you have put in to them is quite incredible. I am delighted with them! Thanks so much for all your work. They are fantastic! I will make sure that every collectors forum on the net knows just how incredible your work is! Thanks again for everything! I wish you all the best for the future.
Mail order customer Tiku wrote: I know its like months after I received the item... but I just wanted to thank you for the insanely outstanding job you did on the bracers I ordered. I can't express how absolutely fantastic they are; My father just loved them. They're so detailed and exquisite, I can't thank you enough for your work on them!
Mail order customer Marc wrote: "Where do I start?? The postman just dropped off my 'Bracers of Gondor', I must say that it was WELL WORTH THE WAIT! I am in awe of your craftsmanship on this item. They look right off the sleeve's of Aragorn and Boromir themselves. I am a million times overjoyed and could not put them down for almost an hour. Your attention to detail and the fact that these are handmade just blows me out of the waters of the west. You must be from the White City itself. You have really made my year and I thank you so much for taking your time with these. Great, great, great work!!!!!! - Marc of the Nashville Shire"
Mail order customer Jake wrote: "I returned from a business trip last night to find your amazing Bracers waiting for me. I am just speechless, the quality is simply fantastic. The chocolate brown color is perfect, they are just phenomenal. Thank you SO much, your work is utterly masterful. I will be recommending these to all who will listen!"
Mail order customer Jason wrote: "I received my Bracers of Gondor yesterday in the mail; magnificent. I have worked in replicas and props from TV and movies for several years and among all the pieces I've come across even those in my personal collection these bracers are now my most prized. Thank you for the time, dedication and craftsmanship put into these, it is much appreciated."
Mail order customer Ason wrote: "Well I was all ready to remain upset with you for taking longer than usual time to get these Gondor bracers to me - I just received them and even have them on as I am typing this - what can I say?!? they are gorgeous, beautiful, fantastic, etc. your tooling work is awesome -they stand up to minute inspection - I am extremely pleased with them - especially because they FIT PERFECTLY!!! even my skinny arms! Thanks"
Click here to see some other Custom work that I've done!
Design your own! Send me a diagram, I'll design it and send you a price quote!
More designs to come!